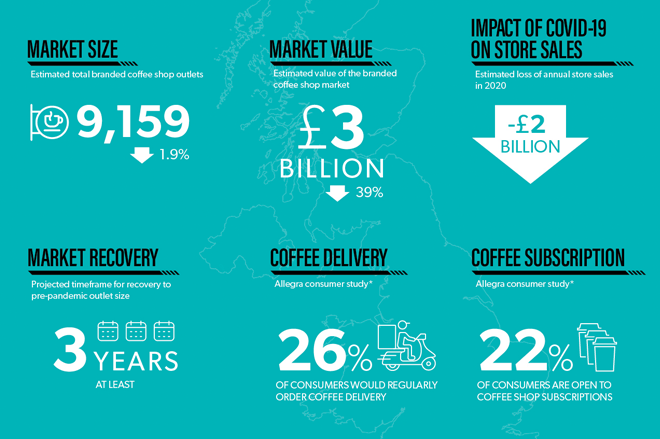 Project Café UK 2021 is Allegra World Coffee Portal's definitive annual analysis on the UK's expansive branded coffee shop market.
COVID-19 RESHAPING THE UK COFFEE SHOP MARKET 
On-going Covid-19 restrictions, including temporary store closures, takeaway-only trading, and the requirement for customers to stay home, have contributed to sharp sales declines at UK branded coffee shops. While a steep reduction in daily commuting has decimated footfall at travel hubs and city centres, many neighbourhood outlets have benefitted from increased levels of home working as more customers shop locally.

This dynamic is reflected in the first fall in the number of Greater London-based coffee shops in 20 years. The UK capital now has 2,330 branded coffee shops ­– down 1.9% on 2019 – but still accounts for more than one quarter of all UK branded cafés.

Nevertheless, the UK's three largest branded café chains, Costa Coffee, Greggs* and Starbucks added 56, 28 and 30 locations to operate 2,681, 2,078 and 1,025 stores respectively. Caffè Nero closed net 16 stores and now operates 648 UK outlets.
UK cafés count the cost of trading restrictions
Amid widespread trading restrictions and reduced footfall, 59% of industry leaders surveyed by World Coffee Portal reported a year-on-year loss exceeding 5% over the last 12-months. Those loss-making operators report an average negative financial impact of £27,650 per store, per month.

Reflecting the sombre national mood, just 15% of industry leaders surveyed are positive about the current trading environment, down from 69% from 12 months ago.
Coffee shops cater to new customer routines
While 85% of UK consumers surveyed** report typically visiting coffee shops at least once a week, just 56% have maintained this frequency during the pandemic.

A growing number of operators, including market leaders Costa Coffee, Greggs, Starbucks and Caffè Nero have responded by introducing hot beverage and food delivery, with 26% of UK consumers surveyed indicating they would regularly use this service if the option were more readily available.

Drive-thru has also proved fruitful during the pandemic as convenience and safety takes precedent over in-store experience. Costa Coffee, Starbucks and Tim Hortons possess the UK's largest branded coffee chain drive-thru presence, with 200, 109 and 10 sites respectively, adding a combined 76 locations during 2020.
At least three years before the UK branded coffee shop market recovers to pre-pandemic levels
The UK branded coffee shop market continues to face deep uncertainty on both the timeframe and pace of recovery from Covid-19 in 2021, with World Coffee Portal forecasting modest 1.2% outlet growth in 2022.

The total market is projected recover to pre-Covid-19 levels by 2024 and exceed 9,600 outlets by 2025 at 1% CAGR. The coffee-focused sub-segment is anticipated to exceed 5,700 outlets at 0.9% CAGR, with the food-focused sub-segment expected to exceed 3,800 stores at 1.1% CAGR. 

Commenting on the report findings, Allegra Group Founder and CEO Jeffrey Young said:

"While there is no doubt the UK's branded coffee shops are here to stay, Covid-19 has had a devastating impact over the last 12 months. With the market suffering a near 40% sales decline in 2020, World Coffee Portal forecasts it will take at least three years before the segment returns to pre-pandemic levels.

"Recovery will require significant innovation, discipline and leadership, with successful operators adapting to on-going trading challenges with smart, technology-led solutions and new store formats.

"Unfortunately, we anticipate further casualties over the next 12-18 months and further government assistance may well be required to ensure the short-term viability of many coffee shops and the wider hospitality industry."
To view the full Project Café UK 2021 report, visit World Coffee Portal.