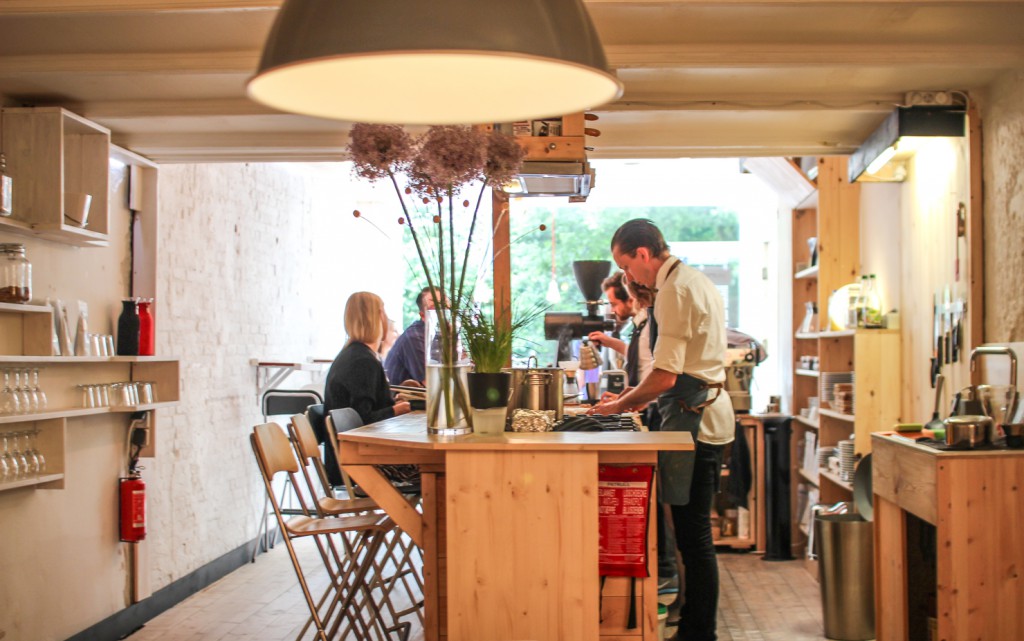 Although claims that pubs are selling more coffee than cafés have been refuted, it's true that the hospitality sector is stepping up its coffee game.1

For restaurants, pubs and hotels that take pride in the standard of their food, beverage and service offering, choosing not to take coffee seriously seems strange, especially as a morning and after-dinner coffee is a common ritual for many people.
However, the hospitality sector is starting to realise the importance of coffee and across Europe restaurants, bars and hotels are changing attitudes.
Bars and Pubs
With more bars and pubs now offering breakfast and brunch, the need for high-quality coffee increases as consumers expect the same standard of morning beverage they would get in their local coffee shop.
JD Wetherspoon is perhaps one of the chains that has significantly improved its coffee offering over the last few years through its partnership with Lavazza coffee. According to CGA Peach, JD Wetherspoon sells almost 1m coffees a week and has more people coming in for breakfast than Pret A Manger.2
In March 2015, founder Tim Martin announced their plan to increase its share of the coffee shop and food-to-go market by offering high-quality coffee at a competitive price and even considering offering flat whites. His decision is no doubt based on recent evidence that people are choosing to socialise more in coffee shops, than in pubs.
No doubt other pubs and bars will quickly realise that they too need to improve their coffee quality if they are to compete in this market.
Restaurants
While coffee is not an essential part of a dining experience, there are plenty of people who enjoy coffee over lunch or to accompany their dessert. As this is often a diner's final taste of a meal, the coffee experience should be memorable to ensure a lasting impression.
Copenhagen's Michelin starred restaurant Noma takes pride in the quality and specialism of its food and beverages, yet until 2013 they did not employ coffee specialists. Following a promise made at the Nordic Barista Cup in 2012, co-owner and chef René Redzepi spent eight months implementing a programme to align their coffee quality with that of their food and wine, working closely with Tim Wendelboe, World Barista Champion and roaster.3
Scandinavian Embassy in Amsterdam helps guests to rediscover coffee by pairing local and Scandinavian ingredients with a selection of coffees that highlight and complement the flavour notes.
It's clear that restaurants are starting to understand the importance of a fine coffee menu, training staff so that they can discuss coffee with diners as authoritatively as they would with wine, yet many still need to recognise its significance and importance to today's diners.
Hotels
No less important is the coffee provided in hotels, but a promise of 'tea and coffee making facilities' in all rooms is no longer a positive.
According to research from UCC Coffee, 75% of hotel guests find in-room coffee poor or average, with 30% saying that this would not encourage them to return to the hotel.4 It's a common scenario – the small red packets of instant coffee and barely enough UHT milk for one person, let alone two.
Yet as consumers learn more about speciality coffee they come to expect it wherever they are and if a 5* hotel is not offering the same quality of coffee as the rest of the experience, people are going to be disappointed.
A 2015 article from Hotel Magazine5 emphasises the importance of high-quality coffee in hotels and its potential profit. With coffee sales up 10.7% year on year, perhaps the time has come for hotels to improve customer experience whilst using coffee to boost their revenue.
The future of the industry
As with any industry, trends change and develop but today's consumer has grown accustomed to drinking a much higher quality cup of coffee and anything that does not match general expectation will not be seen as a good experience.
Coffee may not have been a priority to others within the hospitality industry, but they must now embrace the third (and potential fourth) wave of coffee to continue providing consumers with a satisfactory, overall experience.
---
Places are still available at the European Coffee Symposium – click here for more information.
1http://www.caffecultureshow.com/library/Do-pubs-really-sell-more-coffee-than-cafes
2 www.ft.com/cms/s/0/860d06cc-d13c-11e4-98a4-00144feab7de.html#axzz3hpxK4jeS
3 http://www.dearcoffeeiloveyou.com/coffee-at-noma-the-worlds-best-restaurant/
4 www.bighospitality.co.uk/Trends-Reports/Three-quarters-of-guests-unhappy-with-hotels-coffee-offering
5 www.hotel-magazine.co.uk/delivering-quality-coffee-247